Outdoor Kitchen Design
Designing an Outdoor Kitchen
When you have decided that you want an outdoor kitchen, there are several different things that you can do. One thing that you can do is buy an outdoor kitchen that is already made. This makes it simple but in doing it this way, you cannot customize your outdoor kitchen exactly the way that you want it.
If you decide that you want to have it customized, you have a few different options in the designing. First, you can do it yourself. No one knows better than you what you want out of your outdoor kitchen. The only thing with designing it yourself is that you will need to do a lot of research.
You will need to know all about hiring contractors. You will need someone who works in construction to build the unit for you. Then you will need to hire a plumber to install the sink and the drain.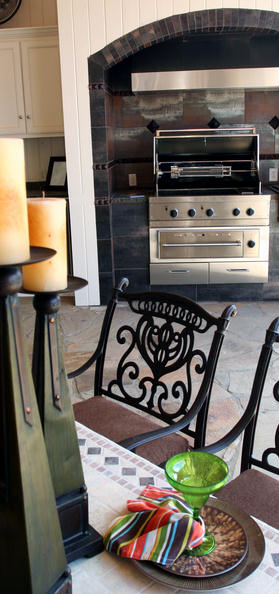 Next, you will need to know where to find a good electrician. He will need to install the lighting, the outlets for the refrigerator, and the extra outlets on the unit for plugging in small appliances such as a blender, a toaster, or an electric can opener.
This electrician will need to hook the electricity in the unit from your electricity. It is good to ask, not just the electrician but all of the people that you are hiring to do this job, if they have ever done jobs like yours before. It is a good idea to get someone with experience. The last person that you will need to hire is someone to run the gas line from your house out to your outdoor kitchen.
Most people can't figure out the design process on their own, and they may need a professional designer. A professional designer will know where to put everything in the unit. He will be able to tell you what extras are available and if it is feasible for your particular outdoor kitchen. You can tell your designer exactly how you want to use your kitchen and exactly what you want out of it. With the information that you give your designer, he can give you the best ideas possible.
You cannot get all of that out of a standard kitchen. Another very important thing that your designer can do for you is make sure that all of your permits are in order ane all of the zoning procedures have been taken. Without these permits, the workmen that you hired will not work.
If you do not check into the zoning laws, you could end up getting a large fine for that as well. Your outdoor kitchen designer will know all about these things. His services will cost you money, but he will also save you money in the long run.
Another way to design your kitchen is on an outdoor kitchen website. You can go through the step by step process of doing basically what you would have hired the designer for but you cannot ask the website questions. The website cannot hire the workmen for you.
The website cannot measure different appliances for you. The website also will not go down to city hall and get your permits for you. It will give you a basic lay out and the company will send you what you designed. If you have experience in building or even in home repairs this seat could be good for you. It is just not as good as hiring the designer.

Another way to design your kitchen is to buy a do-it-yourself video. These are sold at a few different places. You can purchase them at hardware stores, video stores, online, or in the hardware department of your local department store. These video will give you step by step instructions on how to design your own outdoor kitchen. With the website however, you will choose your appliances and the company who offers the do-it-yourself does not. You will need to go to store and purchase all of the appliances for your kitchen. You will need to measure the space in the unit to try to find appliances to fit. This is where many people make their mistakes. This is not the best way for a person to build an outdoor kitchen if they do not have any construction experience.
The last resource for designing your outdoor kitchen is a book. All the books will do is basically give you a few ideas here and there about how to design your unit. It may give you a couple of ideas but not like you could get with a person, a website, or even the video. The do-it-yourself book, like the video, can be purchased online, in hardware stores, or in a department store. This is not a recommended way of designing and having your outdoor kitchen built. This can be used as more of a guide for someone who has already designed a unit or helped to design a unit. These books can give you some points and tips.
The way that you go about designing your outdoor kitchen could be the difference between having a wonderful, well built, efficient unit or a unit that does not work as well as fines for not having the proper permits.