Ideas for an Outdoor Kitchen
Outdoor Kitchens Ideas - the first points that come to mind
There are many benefits to be had from having an outdoor kitchen and below are provided some outdoor kitchen ideas that you may well consider using when thinking of having an outdoor kitchen in your own garden.
Just imagine that you are having a big party and all your family, friends and neighbors have turned up and you then start to prepare the food. Normally this would mean you having to leave the party go into your home and start the preparations in your kitchen indoors. So whilst you are slaving away inside everyone else is outside enjoying themselves.
But now think about the same party but this time you have an outdoor kitchen where every is readily available to you. Okay you may have to occasionally run back inside to get something but most of the time you will be with everyone in the sun and enjoying the fun. Having an outdoor kitchen in your garden is just limited by your own imagination, if you want you could have everything that is in your kitchen indoors in the one you have outside. You could have a stovetop an area where ingredients can be prepared you could if you want even have a refrigerator in yours.
When looking at an outdoor kitchen for your garden is why not include a covering just in case the weather decides not to co-operate on the day of your big party and thus it will not be ruined.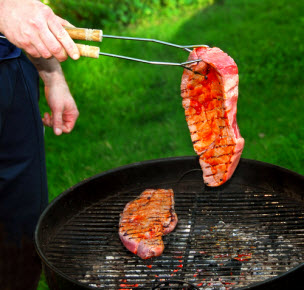 Also why not include some electrical outlets in your outdoor kitchen so that you can plug in electrical appliances or even some additional lights or heaters for later in the evening when it gets dark and cool.
If you decide to include a covered area over your outdoor kitchen then you should include a range hood or some sort of chimney so that smoke can be vented away from the area. You don't want your guests sitting there coughing and crying because of smoke pouring into the eating area.
Another idea you may wish to consider for your outdoor kitchen is a side burner which can then be used to boil sauces etc., rather than you having to keep rushing into the house and then carrying out hot liquids.
Add a table and chairs close to the cooking area in that way the party is always close to you even when you are cooking.
Some of the main points covered in this newsletter –
Keep things close, make your cooking easier.
Think about providing a cover for the eating area, do not cover the barbecue or grill area.
Consider the use of electrical outlets
Side burners for efficient cooking
Table and chairs to the dining area
In the following newsletter issues we will provide you with ideas and tips about getting the most out of your outdoor kitchen, the basic information about the appliances and the hardware to use, and how to maximize the potential of your outdoor kitchen, this first letter is about ideas for an already set outdoor kitchen. Enjoy.