Building An Outdoor Kitchen
How to start building your own out side kitchen
Before building an outdoor kitchen, there are several things that you need to do. There are plenty of decisions that you need to make and lots of planning to be done. Making all of the decisions before you begin the actual building will make it all go more smoothly. It is also smart to choose everything first. You do not want to leave any loose ends before construction begins. If you leave decisions to be made later, you can end up delaying the whole project. Having everything prepared and organized will make your project so much easier.
Before you even begin planning to have your outdoor kitchen built, you need to decide if it is even something that you really need. The first thing that you should consider is if you cook outside often enough to buy one. Outdoor kitchens are expensive.
They start at around $2000 and can go as high as $30,000 for the state of the art model. Another factor that you should consider is your patio. An outdoor kitchen can take up an awful lot of space, even the smallest model will take up a lot of patio space. When planning your outdoor kitchen, you should consider the types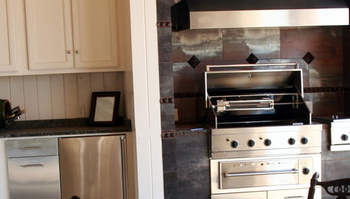 of food that you will want to cook outside. If you will be cooking something simple such as hot dogs and hamburgers, maybe a simple gas grill would be better for you. An outdoor kitchen is for those who would like to prepare elaborate meals for their family.
One last thing to think about, possibly the most important, is the expense. Outdoor kitchens can be very expensive. You need to decide if you can afford one, and if so, is this something that you want to spend your money on. If you have thought long and hard about all of this and you still want to have an outdoor kitchen, you can move onto the next phase of the planning.
The first thing that you will need to do is choose the location for your kitchen. Between the cooking area and the seating area, you will need quite a bit of space. You will need to let the designer know where you will want the kitchen because you will need a source of gas, electricity and possibly water. Your designer will tell you if the location you chose is feasible. The next thing you will need to do is ask yourself how you will want to use your outdoor kitchen. In doing this, you will have a better idea of how you will have your outdoor kitchen designed. One thing that you should ask yourself is what kinds of food will you prepare. If you will be cooking meats such as hamburgers and hot dogs, you will need the standard gas grill. If you will be cooking other things outside such as vegetables, dinner rolls, or even pies, you may want to add the small wood burning oven as well. If you will want to cook the entire meal outside, you should also get the "stove top" burners. It is very important to consider all of the appliances available before the design is drawn up.
If you realize that you forgot something, you will need to have a whole new design drawn up. This will cost you both extra time and money. A refrigerator is a good idea for your outdoor kitchen. Most designs include one. This will require an electrical outlet, so it is necessary to let the designer know that you want it before he begins. It is possible to put a sink in you outdoor kitchen. This is something that needs to be decided on at the very beginning because an outdoor water source will be needed. The builders can use an outdoor hose to hook it up unless you want hot and cold running water. If that is the case, it can get a bit more complicated and expensive. You can even get an ice machine for your outdoor kitchen. This is another extra that is optional. If you do not have a very big budget, leave the ice maker out. Cabinets are also an option. They are made out of a special wood that will not rot.
After you have decided on the appliances, you will need to decide on the seating. You can extend your counter space and make a seating area with bar stools. If you do not have the money for that in your budget, you can purchase patio furniture separately. Buying the separate patio furniture will be cheaper, however, it will take up more space. You will also want to decide if you want lighting installed or if you just want to use the lights that clip on. If you choose the clip lights, you will need to choose to get the roof over the kitchen. The roof is also a good idea for cooking out in the rain.
When the kitchen is designed, it is time to think about zoning laws and permits. Without the proper permits, the people hired to take care of the utilities will not do the work. Also, you can be fined. These permits are available at city hall. If you choose to have the sink installed, the zoning laws will make you put a drain in the sink and hook it up to the main drain in the house. You will need a plumber and a permit for this job. You will need a permit for the electrician to come and install the outlets and the lights. Another thing to consider is a permit for the gas. A gas line may need to be set up to run from the gas line in the house. A permit will be needed for this job as well. One last permit necessary is a building permit for the construction of the kitchen. If you are building your outdoor kitchen close to the house, this may save you from having the job area zoned. Building close to the house will also make the electricity, plumbing, and gas connections easier.
With proper planning and permits, the construction 0f your outdoor kitchen will go smoothly. You will be cooking a gourmet meal outside for your family and friends in no time.